Here is a list of testimonials from our past and current customers. If you would like to add a review to this page, please submit your request to our contact form. Your comments mean a lot to us.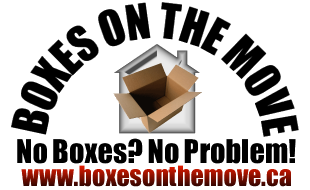 Any Questions? Please call (905) 720-2005 (Durham).
---
Bill Featherstone
Hi Ken, I just wanted to say 'Thank you' once again. What a great business and great service you offer. I will definitely refer you to everyone I know and to anyone who is willing to listen. I look forward doing business with you again.
---
Jessica
Thanks so much Ken for the great service! I was most impressed and will definitely recommend you to my friends when they move!
---
June
Great site, great prices, great boxes! Thanks Boxes on the move, you made my move affordable and easy. Call them at (905)720-2005 for all your moving supplies. Located in Oshawa. They delivered to my home in Pickering.
---
Theresa
I went to www.boxesonthemove.ca called them at (905) 720-2005 and they brought me 25 medium boxes within 2 hours. They also had many other moving supplies. They are located in Oshawa.
---
Charles
I called Boxes on the Move at 1:30 PM in Oshawa. Ken had my Home Kit delivered to my home in Bowmanville in less than one hour. Impressive. Also they have the cheapest prices I've ever seen. Take a look.
www.boxesonthemove.ca
---
Anonymous
I found Boxes on the Move through Google and I must admit, I was very impressed with the website. So easy to navigate and they had everything I needed for my move. Boxes on the Move is my one stop shop for all my moving needs even though I went back 3 times for more.
---
Anonymous
Thank you Boxes on the Move. Best place to get your boxes and moving supplies. They even delivered right to my front door. Ask for Ken. Good guy.
---
Hi Ken,
I just want to commend you on your fantastic service levels. You were able to answer all my questions with great advice. I would never have thought that moving was so complicated! Its like you have been doing this for years.
BTW – thanks for the bubble wrap it really helped with the china. I'll definitely send you some new business!
---
Michael Belinski
I was extremely pleased with the service I received. I ordered the boxes and they were delivered the next day. The delivery person also helped move the boxes to a safe location. She went above and beyond what I expected.
Thank you!
A Satisfied Customer
---
Christina Allen
Thank you! What an amazing service! I will be sure to recommend you to family & friends!!!
Thanks so much Ken for your service and supplies!
---
Nancy
Thanks for your prompt, pleasant service. It was a pleasure, easy and convenient to use your business.
---
Dorothy
Quick and fantastic! Only now I have to start tomorrow instead of next week! This is just the first order! There will be lots more coming. Renovating the complete interior of our house then selling. I will definately be talking to you soon.
---
Kim
Thanks Ken, this was indeed great service and I will recommend you to any friends who may be moving!
---
Anne
Many thanks! We were absolutely delighted to find your site and very impressed with your terrific service. I will definitely be recommending Boxes On The Move to anyone I enounter in the GTA who is planning a move or is in need of some boxes. It really was terrific doing business with someone with such excellent customer service, punctuality and quality products.
Thank you very much.
---
Jessie
You went well "above and beyond" in terms of response time, courtesy and willingness to do whatever it took to help the client, even though it was the Christmas HOLIDAYS and she was asking for unrealistic delivery times!!! Thanks so much Ken…would not hesitate to use, or recommend your company!!
All the best to you and your family!
---
Kathy
Hi Ken, I am very pleased with the service and products. I will definitely use your company again if I need to order more supplies, and I will be sure to recommend you to all my friends. Best,
---
Candace
Thanks a bunch for the great service; you have made my life much easier!
Take care.
---
Kelly Ann
Hi Mr. Ken,
Thank you so much and I'm so glad to deal with you. Wish you the best business. Take care.
---
Ibrahim
Thank you for your quick and awesome delivery. You have taken so much off my mind about this move already.
Have a great day.
---
Marion
I ordered a combo pack on Monday and received confirmation plus a scheduled delivery time the same day. Delivery was on time (the next day). Ken was extremely helpful, friendly and accommodating.
You get real value, great products, and friendly service. I won't hesitate buying from Ken again.
---
Dan, Ajax
Thanks Ken. Will definitely call you again. Big move is in July so I am sure we will be
doing business again. Your customer service is great and very quick.
Have a great day.
---
Thanks again! I'm sure I'll be placing another order soon!
Nikki
---
Hi Ken,
Got my boxes and stuff. Thank you so very much for your quick attention to and fast delivery of my order. What great service! It is very very much appreciated.
Best regards. Shelly
---
Good day Ken,
Thank you for all your help getting those boxes to Snowball.
I want you to know my mother was very impressed by the nice driver
and all the boxes (and other good stuff that came with them).
I will definitely be passing your website to my friends!
Great job!!!!
Jhon
---