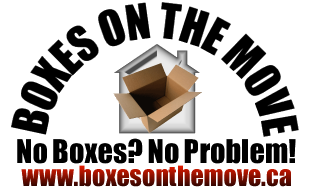 Boxes on the Move has created this privacy statement in order to demonstrate our firm commitment to privacy. The following discloses our information gathering and dissemination practices for this website: www.boxesonthemove.ca
Boxes on the Move lets you visit our website without revealing any personal information about yourself. Boxes on the Move requests personal information from our users at certain different points on our website. The personal information we collect is used only to respond to your inquiry, process an order, allow you to access specific account information, or advise you of special promotions, discounts, updates and/or new products.
What We Collect
Ken Combden is the sole owner of the information collected on this site. I will not use or disclose this information for purposes other than those set out in this statement. By using this site or any services provided through the site, you expressly consent to the use and disclosure of information as described in this Privacy Statement. Our site uses catalog request and order forms for customers to request information, products, and services. We collect visitor's contact information that you give us from forms you submit (like email address), unique identifiers (like customer number), and financial information (like account or credit card numbers).
How We Use it
Contact information from the order form is used to send orders and information about our company to our customers. The customer's contact information is also used to get in touch with the customer when necessary. Financial information that is collected is used to bill the user for products and services that Boxes on the Move provides. We do not share any customer information with any other company or entity.
Choice/Opt-out
Users may opt-out of receiving future mailings. If you do not want us to use your information to improve your shopping experience. Please contact Boxes on the Move customer service at [email protected]
Links
The Boxes on the Move website may contain links to other websites. Please note that when you click on one of these links, you are leaving our website and traveling to another website. We encourage you to read the privacy statements of these linked sites, as their privacy policies may differ from ours. This privacy statement applies solely to information collected by this website.
Order and Credit Card Information
Credit card information from the order form is only used for payments of products and services purchased by the customer. We will not use or disclose this financial information for purposes other than those set out in this statement. Upon completing and confirming online orders, the customer gives Boxes on the Move permission to bill the credit card for the product and services that you requested.  Credit Card information is not stored on www.boxesonthemove.ca.
Security
Our site has security measures in place to protect the loss, misuse and alteration of the information under our control. We do not have "secure sockets". We do however have policies to insure that if you give us your credit card number it will remain safe and inaccessible to others. We do not store customer credit card numbers anywhere on our website.
Boxes on the Move wants your on-line shopping experience to be as comfortable and worry free as possible. We are committed to protecting the privacy and security of personal information and we will take all necessary and reasonable measures to safeguard it from unauthorized access.
This information will only be used or disclosed for the purpose for which it was intended. Boxes on the Move does not sell, rent, lease, share or otherwise release personal information to any third party unless required by law. You will at no time receive any unsolicited e-mail from Boxes on the Move unless requested by you.
Contacting the Web Site
If you have any questions about this privacy statement, the practices of this site, or your dealings with this Web site, you can contact Ken Combden at Boxes on the Move: (905) 720-2005 or by Email: [email protected].
Changes to this Policy
Boxes on the Move reserves the right to change this policy at any time by providing notice of such modification on this site.